COMPREHENSIVE SKILLED LABORATORY SERVICES
Protein detection methods are of widespread importance for research scientists, industrial and environmental engineers and clinical practitioners alike. The identification and quantification of specific protein molecules is necessary to understand fundamental aspects of biology, to monitor food quality and environmental safety and to diagnose and prevent human disease.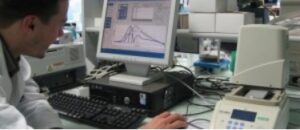 The control of protein expression in cells is an important tool in research and industrial settings, particularly in the pharmaceutical industry. Not only is it important for the production of therapeutic protein and vaccines, but it also enables the study of gene regulation, protein-protein interactions, antibody generation, and protein structure. Proteins often produced intracellularly for research and industrial use include antibodies, viral subunits, and gene therapy vectors.
Recombinant proteins can be produced in several ways, including via Escherichia coli, in mammalian cells, and by baculovirus transfection into insect cells. Selecting the correct system for a specific application can be complex, considering factors of protein folding and functionality, solubility of proteins, swiftness of production and protein yield.
Initially, protein targets are fractionation or enriched followed by target-specific detection. Fractionation/enrichment techniques include liquid or gas chromatography, immunoabsorbtion and sub-cellular fractionation. Specific detection is accomplished using immunodetection assays, enzyme activity measurements or biophysical techniques like mass spectrometry. Additionally, methods for in situ detection of specific proteins exist. These include immunohistochemistry and FACS (Fluourecence Activated Cell Sorting) methods. All these methods are used either as independent tests or in combination to provide definitive results in research, clinical and industrial laboratories. The most common methods used are western blotting and ELISA (Enzyme-Linked Immunosorbent Assay).
At Altogen Labs we offer a variety of custom services for the development of reagents and assays for specific and sensitive detection of target proteins. We provide services for all aspects of antibody development, production, purification and testing. This includes epitope mapping, custom labeling and performance testing on multiple platforms. In addition, we offer all services for ELISA assay development, ELISA platform optimization and ELISA assay format modification. Our scientists experienced in all facets of protein expression to aid our clients in designing the best system for their needs. All laboratory work at Altogen Labs is done in a Good Laboratory Practices (GLP) facility with comprehensive quality controls.
FOR MORE INFORMATION, SEE:
Laboratory Services │ Science Of Protein Expression │ Protein Expression Applications │ Assay Developmen │ ELISA │ Western Blot │ Stability Analysis │ Available Services